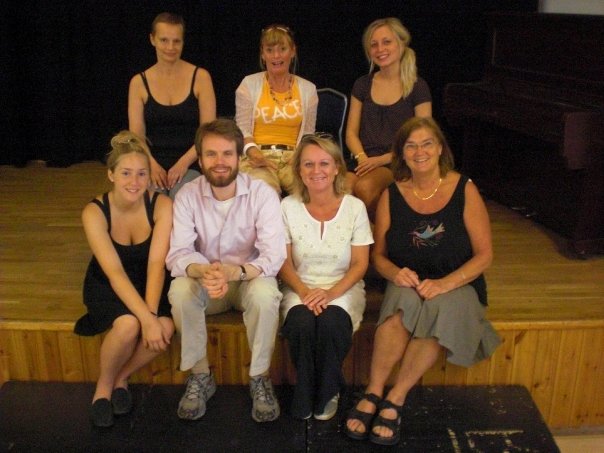 Jake – Mattias Nyberg
Maggie, hans fru – Lotta Nöjd
Karen, hans syster – Jea Portnoff
Molly, hans dotter – Anilla Larsson
Edith, hans terapeut – Mia Andersson
Julie, hans första fru – Caisa Petersson
Sheila, den där nya – Birgitta Rudklint
Musik:
Bill Evans – Everything happens to me (Dennis-Adair), What kind of fool am I? (Newley-Bricusse) / Jea Portnoff – I could write a book (Rodgers-Hart), As time goes by (Hupfeld), Last night when we were young (Arlen-Harburg), Blues in the night (Arlen-Mercer), I've got the world on a string (Arlen-Kohler), Slow boat to China (Loesser), Everything's coming up roses (Styne-Sondheim), Have a little faith in me (John Hiatt) / Keith Jarrett – I loves you Porgy (Gerswin-Heyward-Gershwin), I'm through with love (Kahn-Livingston-Malneck), Don't ever leave me (Kern-Hammerstein), Someone to watch over me (Gershwin-Gershwin) / Stan Getz – One note samba (Jobim) / Katzen kapell – Moustique (Backman) / Joni Mitchell – Twisted (Ross-Grey)
Jag känner att jag fräter på mitt eget liv, att den honung som jag ger åt någon ute i tomma rymden har jag fått av stoft som jag plundrat från mina bästa blommor, att jag har rivit upp själva blommorna och trampat på deras rötter.
Tror ni att mina närmaste och mina vänner behandlar mig som en frisk människa?
Ur Måsen av Anton Tjechov
My analyst told me that I was right out of my head
But I said dear doctor I think that it's you instead
Because I've got a thing that's unique and new
To prove that I'll have the last laugh on you
'Cause instead of one head I've got two
And you know two heads are better than one
Ur Twisted av Ross-Grey
One must be fond of people and trust them if one is not to make a mess of life
E. M. Forster
It is better to be sometimes cheated than not to trust
Samuel Johnson
A man who doesn't trust himself can never really trust anyone else
Cardinal De Retz
I think we may safely trust a good deal more than we do
Henry David Thoreau
To be trusted is a greater compliment than to be loved
George MacDonald
You may be deceived if you trust too much, but you will live in torment if you don't trust enough
Frank Crane
Jag har tillit till tilliten. Även om erfarenheten lär oss att det är logiskt att inte lita på andra, så är det nödvändigt att göra det trots allt. Andra människor kommer att ljuga för dig, såra dig, svika dig. Men det är bättre att välja att lita på andra, även om förtroendet sviks nio gånger av tio, än att inte lita på andra och därmed aldrig komma andra riktigt nära. Och kanske tillit föder tillit…
Peter Bark