Medverkande: Simon Edman, Louise Björlin Svozil, Jonas Blixt, Cecilia Lundström, Bernd Briese, Ninni Wikander,
Per Gustafsson, Mallika Giarimi, Lilly Sjöblom, Anette Lekander, Anna Sandberg, Stina Bengs, Carl Silfverhielm, Bengt Höglund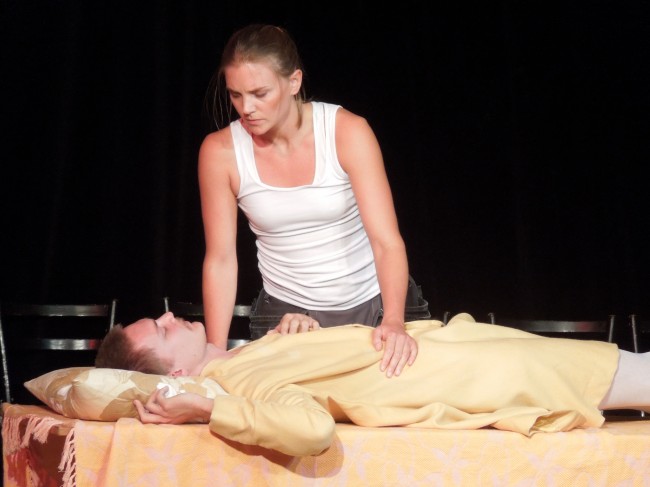 Musik: A good man is hard to find (Green) Stina Bengs/Bengt Höglund, Jag är blott en stackars liten kvinna (Jules Sylvain/Karl-Ewert) Zarah Leander, Breakfast at Tiffany's (Henry Mancini), Title music from A clockwork orange (Henry Purcell/Walter Carlos, Rachel Elkind), Another brick in the wall (Roger Waters) Pink Floyd, Captain of industry (Joe Jackson) Tucker soundtrack, The stripper (David Rose) Joe Loss & his orchestra, The nightingale (Angelo Badalamenti) Twin Peaks soundtrack, Kåt på gossar (Brantenberg/Bark) Bengt Höglund/Svenbalskören, Calm before the storm (Ron Mael) Sparks, Not fair (Lily Allen-Greg Kurstin) Lily Allen, Strangers in the night (Bert Kaempfert), Highway star (Deep Purple), Women vs men (David Byrne), Facts of life: Intro / The power to believe IV: Coda (Fripp) King Crimson, Hård stad (Lee Hazlewood-Beppe Wolgers) Anne-Lie Rydé, La java martienne (Boris Vian-Alain Goraguer ) Willem Breuker kollektief, Army of me (Björk-Graham Massey) Björk, Creep (Radiohead-Hazlewood-Hammond) Radiohead, Love is a many-splendoured thing (Webster-Fain) Henry Mancini,The man I used to be (Sturmer-Manning) Jellyfish, Dievs, tava zeme dag (Lucija Garuta), Tema heroes (Schnorov), Maskava (Sejans), Adagio (Albinoni), Invercargill (Lighten), Take it like a man (Joe Jackson), Not to blame (Joni Mitchell), Bang bang (S. Bono) Nancy Sinatra, Born to make you happy (Andreas Carlsson-Kristian Lundin) Britney Spears, You don't own me (Madara-White) Dusty Springfield, Unique (Johan Norberg-Regina Lund) Regina Lund, The homecoming (Andy Latimer) Camel, Run for your life (Lennon) The Beatles, Sisters are doing it for themselves (Lennox-Strewart) Eurythmics, Church of women (Partridge ) XTC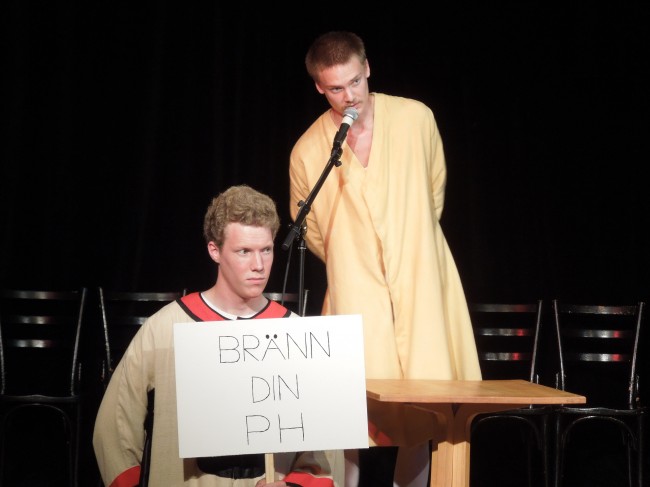 Feminism innebär väl att hysa åsikten (insikten) att vi lever i ett könsmässigt ojämlikt samhälle och att det borde förändras. Svårare än så är det väl inte? Är det något att bli kränkt över att människor engagerar sig för feminismen? Är feminismen något som kan kallas extremt? Om det är så mycket mer extremt att påstå att kvinnan är förtryckt än att påpeka att arbetarklassen är förtryckt, så måste det ju bero på att könsförtrycket är mycket mer extremt än klassförtrycket. Är feminismen något som kan kallas perverst, frustrerat manshat?  Vi är perversa och frustrerade därför att ni perverterar och frustrerar oss. Vi måste sträva efter ett samhälle där alla värderas som människor.
Peter Bark, regissör (kursiv text fritt ur Egalias döttrar)
Take it like a man
Don't let her down just 'cause you could before She stole the crown you don't rule anymore
Oh no, take it like she did before Oh no, take it like a man
Joe Jackson